About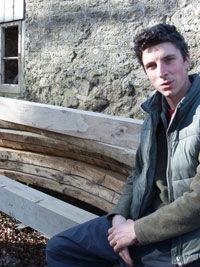 The reasons why I'm fascinated with timber framing are many. I find myself marvel at the incredible craftsmanship of carpenters in centuries gone by, with their variety of techniques and design so closely connected to the surrounding countryside and the time from which they emerged.
Just as much am I amazed by the material, the wood itself, lasting for centuries and being unique with every tree. I try to source the wood I use (mainly green oak) as locally to the job as possible. I see it as an important contribution to a functioning forestry and to renewing ecosystems in this country.
At the same time I enjoy being involved in the work to a great extent- from sourcing the wood, sometimes cutting (or even hand - converting) it, to the final frame, with rafters, floors and weatherboarding if applicable. Challenging, innovative designs keep the creativity flowing. To me, timber framing is a method and green oak a material that continue to inspire me - I'd like to see more rather than less of it.